BIDs Belgium participates UN 

Humanitarian Hackathon with 

Hack Belgium 
---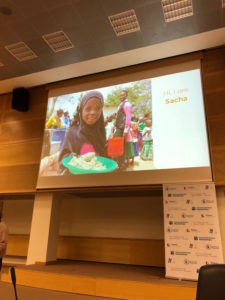 BIDs Belgium was one of the few organisations selected to participate in the United Nations Humanitarian Hackathon organised together with Hack Belgium, supported by the Deputy Prime Minister Alexander De Croo. Held in Brussels at Egmont Palace on 16 January 2019.
An incredible day which Deputy PM kicked off the day with presenting the opportunity of coming together with the United Nations for the diverse audience and potential solutions, to the most pressing challenges the UN World Food Programme faces.  A selection of NGO's, SME's, Entrepreneurs, Designers, Tech and Social Entrepreneurs coming together to listen to the interesting mix of challenges presented by the UN World Food Programme.  Diverse groups were grouped together after selecting their 'challenge of the day'.  Working through methodologies to develop concepts and present their solutions.
BIDs Belgium participated in a group where we presented Improvement Districts as a solution for the challenge presented in certain remote parts of Africa. 'How do we ensure Sacha, the young school girl, whose only one meal of the day at school is healthy?'. Ensuring there is connection between the local Farmers, Markets and School. Whilst creating a framework that is both sustainable, economical and transparent.
It was an excellent day that seen many solutions presented to such challenges as we had, along with others that related to disaster relief – how to ensure emergency services can get to remote disaster zones. Using the latest options available from the tech/digital sector, etc.
An incredibly rewarding and humbling experience for us, that showed the amazing work that the United Nations World Food Programme undertakes, under the most difficult of conditions and challenges around the world.
Thank you to Hack Belgium for their amazing organisation and to the all that took part, along with the UN WFP.